January 14, 2022
ENGLISH
At a special meeting Friday, January 14, the USD 480 Board of Education voted unanimously to approve requiring masks throughout the district as well as following the new Center for Disease Control's guidelines on quarantine and isolation as adopted by the Seward County Health Department. For all school activities, USD 480 will follow the guidelines set forth by KSHSAA.
"With the new guidelines adopted by the Seward County Health Department, we have the opportunity to reduce by 50% the number of in-person learning days students and staff miss because of COVID illness and quarantine," said Superintendent Dr. Todd Carter.
Beginning January 17, 2022 all of USD 480 will be required to wear masks while in any building. The new CDC guidelines for quarantine and isolation include a reduction to five (5) days of isolation followed by five (5) days of wearing a mask for anyone who tests positive.
"USD 480 health staff and Seward County Health Department staff met to discuss implementation of the new guidelines," Carter said. "Given the current high case numbers and positivity rates in the district and community, there is a risk of increasing positive case numbers with the reduction in isolation time and quarantine unless the mask requirement for students and staff returning to school is done with fidelity."
The USD 480 Board of Education, in order to prevent closing schools and moving to remote learning, made the decision to implement a temporary mask requirement. The mask requirement will be revisited at the second board meeting in February after reviewing both county and district COVID cases.
SPANISH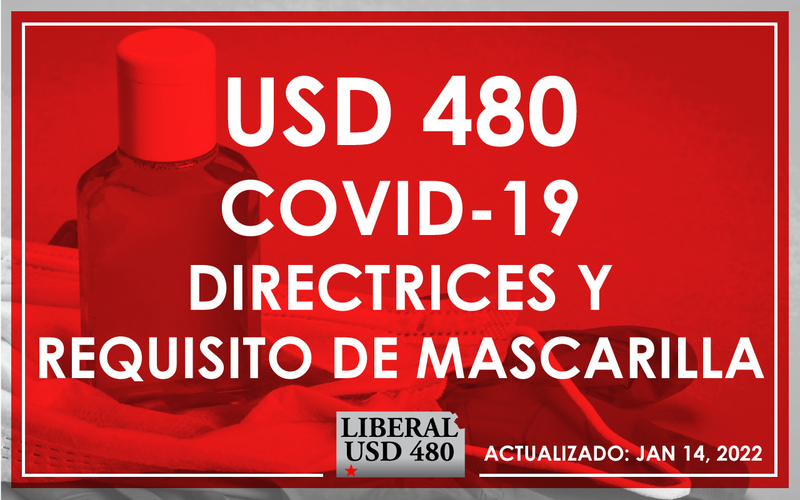 En una reunión especial el viernes 14 de enero, la Junta de Educación de USD 480 votó por unanimidad para aprobar el uso obligatorio de mascarillas en todo el distrito, al igual seguir las nuevas pautas del Centro para el Control de Enfermedades (CDC) sobre cuarentena y aislamiento adoptadas por el Departamento de Salud del Condado de Seward. Para todas las actividades escolares, USD 480 seguirá las pautas establecidas por KSHSAA.
"Con las nuevas pautas adoptadas por el Departamento de Salud del Condado de Seward, tenemos la oportunidad de reducir en un 50% la cantidad de días de aprendizaje en persona que los estudiantes y el personal pierden debido a la enfermedad y la cuarentena de COVID," dijo el superintendente Dr. Todd Carter.
A partir del 17 de enero de 2022, se requerirá la totalidad de USD 480 para usar mascarillas en cualquier edificio. Las nuevas pautas de los CDC para la cuarentena y el aislamiento incluyen una reducción a cinco (5) días de aislamiento seguidos de cinco (5) días de uso de una mascarilla para cualquier persona que dé positivo.
"El personal de salud de USD 480 y el personal del Departamento de Salud del Condado de Seward se reunieron para discutir la implementación de las nuevas pautas," dijo Carter. "Dado el alto número de casos actuales y las tasas de positividad en el distrito y la comunidad, existe el riesgo de aumentar el número de casos positivos con la reducción del tiempo de aislamiento y la cuarentena, a menos que el requisito de mascarilla para los estudiantes y el personal que regresa a la escuela se cumpla con fidelidad."
La Junta de Educación de USD 480, para evitar el cierre de escuelas y el cambio al aprendizaje remoto, tomó la decisión de implementar un requisito de máscarilla temporal. El requisito de mascarilla se revisará en la segunda reunión de la junta en febrero después de revisar los casos de COVID del condado y del distrito.
___